Our Managment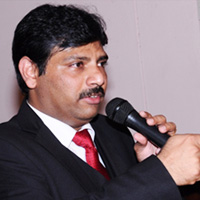 Mr. Oommen Abraham, CEO
Global Best HR & Management Consulting Private Limited is founded by Mr. Oommen Abraham, an accomplished professional with an unmatched drive. He has more than two decades of wide-ranging experience at both strategic and operational level in delivering people management strategies. Possess a proven ability and expertise in various gamut of HR functions.
A keen, proactive and self-motivated HR with excellent organizational skill, who can thoughtfully deal with difficult and sensitive situation.
He is a B.com graduate with MSW (IR & PM) from Loyola College, Chennai and PGCBM from MMA-IFMR, Chennai. He has been trained in various psychometric Assessment tools, Behavioral Skill Evaluation, Competency Modeling, Assessment / Development Centre, Job Evaluation techniques, Group Facilitation, Interviewing Skills, Compensation benchmarking & restructuring, Strategic Leadership, etc., by the world class reputed organization. He is proficient in designing HR processes and customized HRMS to produce desired outcomes.
Mr. Oommen Abraham has been awarded as one of the top ten "Most Powerful HR Professionals in India" in the year 2010 by the World HRD Congress & Employer Branding Institute at the Asia Pacific HR Congress held at Singapore, June 2010.
He commenced his career as Management Trainee with CavinKare Private Limited, one of the fastest growing FMCG companies in India when it was a 12 crore company. He contributed significantly and held various positions before taking up HR leadership role for the group as Vice President Corporate HR.He was instrumental in designing and implementing HPWS in one of the green field plants and led HR ERP implementation successfully (SAP & Ramco). He has taken lots of initiatives in restructuring organization, performance management system and creating a learning culture by launching CavinKare University. During his leadership, CavinKare has won several awards for various HR practices and processes from professional and Industry forums. He left CavinKare when it was around 1200 crore group after playing active role in the growth story of 100 times during his tenure of 18 years.
Prior to venturing own HR & Management Consulting company, he was heading HR for Everonn Education Limited, one of the group companies of GEMS Education, Dubai, leading private player in K-12 in the world. He joined Everonn when it was undergoing Promoter & Management Change. He led the people and organization transition, restructured the organization, streamlined hierarchy levels and grades, restructured compensation structure, designed and implemented customized online HRMS & Payroll and created complete transparency in policies, processes and communication, redesigned roles and performance management system.